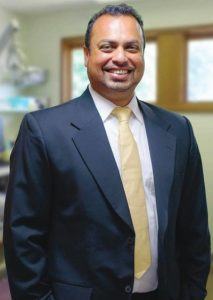 Q. What are the specialties of your practice?
A. Our practice specializes in cosmetic and implant dentistry. Keeping our patients satisfied with the service they receive is our top priority. We also are committed to using the latest advanced dental technology to make the experience of our patients as efficient, comfortable and enjoyable as possible every time they visit our office. My extensive background and experience, including receiving my DDS and completing the implant program at New York University, enable me to effectively provide patients with the highest level of care.
Q. In what ways do you use special advanced technology?
A. To help ensure our patients receive high-quality gentle care, we make sure they benefit from state-of-the-art dental technology. Our diagnostic equipment helps us make quick, accurate diagnoses and more effectively plan treatment. Dental technology includes a wide range of cutting-edge tools, equipment, techniques and materials. Each type of dental technology has its own set of benefits. For example, comprehensive 3D cone beam imaging helps us diagnose the need for placement of dental implants, detect endodontic problems, diagnose tooth decay, and assess TMJ disorders, among other dental issues. We use CHROME-guided implant surgery to provide the best final prosthetic design and a good outcome for full-arch implant cases. I am also fully trained for All-on-Four® implants, which is a minimally invasive solution for replacing missing teeth using only four implants. The procedure requires no bone grafting and the patient leaves with teeth in a single day. We also use non-invasive laser technology for fabricating to achieve the best possible smile results.
Q. What is the difference between dentures and implant bridges?
A. Dentures cover the roof of the mouth, which can cause several problems, such as allowing food particles to become trapped and the dentures possibly slipping while chewing hard food, which can be embarrassing and affect a person's confidence. Some patients also experience an inability to differentiate the taste of food and drinks or between hot and cold, especially in the lower dentures where the denture adhesive cream is applied to reduce slippage. On the other hand, implant bridges provide more stability, help restore the surrounding bone, and resemble natural teeth, making it possible for patients to chew easily and well. Patients are better able to taste and enjoy their food, which gives them more confidence when smiling and talking and helps boost their self-esteem.
Q. Why does your practice have multiple locations?
A. I want to be able to provide patients with the specialty treatment they need as conveniently as possible. Having multiple locations enables us to reach out to patients in different areas where they can take advantage of our full mouth implant rehabilitation specialty.
Hudson Valley – June 2021 – page 63
Cosmetic & Implant Dentistry
Syed Mashihuddin, DDS
Fishkill Dental Studio
1399 Route 52, Suite 203, Fishkill, NY 12524
845.896.2725 www.fishkilldentalstudio.com
Merchant Square Dental
35 Ronald Reagan Blvd, Warwick, NY 10990
845.986.1732 www.merchantsquaredental.com
Dental Solutions of Highland
8 Grove Street, Highland, NY 12528
845.562.8046 www.dentalsolutionsofhighland.com
Waterfront Dental
84 Old Route 9W, Suite 100, New Windsor, NY 12553
845.562.8046 www.waterfrontdentalpllc.com
Matamoras Dental
2 Avenue L, Matamoras, PA 18336
570.491.4012 www.matamorasdental.com
Magazine Source:
https://www.pageturnpro.com/Today-Media-Inc/99937-Hudson-Valley-Magazine-June-2021/sdefault.html#page/64